Homemade Blender Salsa
Homemade Blender Salsa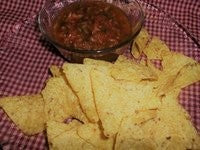 The ease of this homemade salsa is that you don't have to have a garden full of fresh tomatoes and you don't have to spend more than minutes of your precious time chopping, peeling or washing as the blender or food processor does most of the work for you -- well...not the washing them part! You know...all the chopping that can be time consuming. Take a tip: This tastes better after the flavors have melded into each other - so give it a few hours to sit if you can spare the time before serving. Keeps well in the refrigerator about a week.
Into the blender or food processor put:
2 cans petite diced tomatoes (14.5 oz. can )
1 medium Vidalia onion (large chunks)
1/2 of a seeded sweet bell pepper (large chunks)
1 small jalapeno seeded if you like "spicy"
(Substitute: 3-4 jalapeno slices from a prepared jar if fresh is not available)
1 Tbsp. fresh minced garlic
2 Tbsp. lemon or lime juice
(Substitute with apple cider vinegar if not juice is available)
1/2 tsp. black pepper & 2 tsp. sea salt
1 large handful of fresh cilantro
(This cannot be substituted -- it makes the taste! - I throw in clean stems too along with the leaves if
 they are tender - the blender or food processor will chop it all up for you!)
Keep refrigerated 3 hours for flavors to mellow and then serve with warm, crispy chips.
Make your own dipping chips! Fresh & Tasty!
Chips are easily made at home by cutting small corn tortillas into 4ths with kitchen scissors.  Fry in hot oil until very lightly golden. I use coconut cooking oil. Drain on paper towels and salt.  Serve warm with homemade salsa!
An original recipe by Marmee from Marmee's Kitchen c. 2007