Cranberry Nut Granola Original Recipe
Cranberry Nut Granola Original Recipe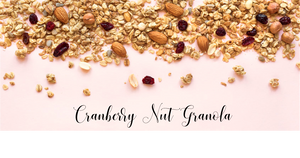 I would spend time in Mama Greene's kitchen during my visits to Greene Gate Farm before I became Mrs. Greene.
I was asking her about Roger's favorite foods so I could surprise him with something homemade. She mentioned to me Roger loved granola. It was the first time I had ever heard of it since I had grown up in East Pakistan.
Years later when we opened our backyard market, my girls and I stirred up giant bowls of granola from our original homemade recipes; we bagged it and sold it.
All the Greenes are  granola lovers today!  It is one of my favorite homemade gifts from the kitchen. Fill a cute canister, add a bow and homemade label, then share!
Here is one of my original granola recipes I think you will love! 
Mix all together in a large mixing bowl:
4 cups Old-Fashioned Rolled Oats 
4 cups Quick Rolled Oats (much finer pieces)
1 cup Wheat Germ
1 cup Shredded Coconut Flakes
1 cup Brown Sugar
1 tsp. Cinnamon
1/4 tsp. Salt
1 cup Sliced Almonds
3/4 cup Roasted & Salted Sunflower Seeds

Make a well in the center of dry mixed ingredients and add in:

1 cup Maple Syrup
1/2 cup Butter, melted

Toss and mix all ingredients to combine well. Spread out on large lightly greased baking pans. Bake at 325 degrees for 15 minutes. Stir around on pans and continue baking for 15 more minutes. Allow to cool completely on pans.
 
Add in:
2 cups Dried Cranberries (Craisins) and toss to incorporate dried fruit throughout the granola.

Store in sealed container only after completely cooled. Keeps fresh for up to 3 weeks on the counter in a sealed container. Freeze for long-term storage in zip-seal bags. 
from my kitchen,