Remembering Winnie-the-Pooh
Remembering Winnie-the-Pooh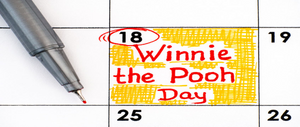 January 18th is Pooh Day, and I wanted to write a post honoring the sweet little bear and his author A.A. Milne. I have a strong connection to pooh...he lived on 100 acre wood -- like me!
It was many many years ago that I first came to know about Christopher Robin and the 100 acre wood.  I was a young girl living in a far away land where my parents were missionaries.  A new family of missionaries had arrived to join the team.  We were helping them settle into their new home in this foreign land and they brought along from the US a record player and vinyl records. 

While the adults unpacked and set up house - their children put on a record for me and my sister to have a listen.  It was the story of Winnie the Pooh and the little black rain cloud. I loved it!  I listened to it so many times I had all the words to the song memorized and still hum them to myself today. 
Vinyl records came and went and are back again! And now there is vinyl lettering that adheres to flat surfaces like walls -- so perfect as if you want to remove it - it removes easily with no residue left behind.
I have it on my mirrors and walls in most rooms of my home although I don't give Pooh lines all the space.  I often cut my own with my Silhouette electronic cutter. I'm a die-hard crafter at heart and if I can do-it-myself ... then I will! This is the brand cutter I have and love!
Since I have so many children -- I have at least one with the same personality as all Pooh's friends - there is Gopher, Eyeore, Rabbit, Tigger and....I have lettering on the walls in my house with some of my favorite lines.
"If you live to be one hundred, I hope I live to be a hundred minus one day, so that I never have to live a day without you."--Winnie the Pooh
Here are more of my favorite Winnie-the-Pooh quotes:
"It isn't much good having anything exciting, if you can't share it with somebody."--Winnie the Pooh
"One of the advantages of being disorderly is that one is constantly making exciting discoveries"― A.A. Milne 
"To the uneducated, an A is just three sticks."--A.A. Milne
"If the person you are talking to doesn't appear to be listening, be patient. It may simply be that he has a small piece of fluff in his ear."---Winnie the Pooh
"I think we dream so we don't have to be apart for so long. If we're in each other's dreams, we can be together all the time."― A.A. Milne, Winnie-the-Pooh
"Piglet noticed that even though he had a Very Small Heart, it could hold a rather large amount of Gratitude."― A.A. Milne, Winnie-the-Pooh
Piglet: "How do you spell 'love'?"
Pooh: "You don't spell it…you feel it." — A.A. Milne, Winnie-the-Pooh
MarmeeDear & Company, LLC is a participant in the Amazon Services LLC Associates Program, an affiliate advertising program designed to provide a means for sites to earn advertising fees by advertising and linking to Amazon.com.