Gluten-Free Protein Waffles
Gluten-Free Protein Waffles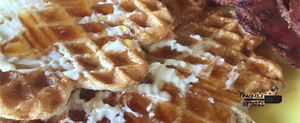 We love these! Simply simple to make even for a beginner cook. My lil' grand-girlie just loves making waffles with her momma in their kitchen. 


The main ingredient is wonderful old-fashioned oatmeal and not flour so they qualify for anyone on a gluten-free dietary plan. Use gluten-free oats if you are highly sensitive to gluten.
Another main ingredient is cottage cheese adding a good boost of protein to this not-so-ordinary waffle. Every time I serve them to guests-they comment on how good they are and when I tell them how easy they are and what is in them they are surprised!

Where we live (right in the middle of our 218 wild acres in our dream house built-from-scratch with huge wrap around porches) we don't feel the urge to go somewhere on vacation as it is like a retreat here!
Every now and then I take time to relax and have Breakfast on the front porch! 


We make these a lot and besides breakfast often have these for a quick supper or Sunday evening treat. If you are a waflle lover you will make them most anytime--not only for breakfast! 218 calories per serving.
This recipe will serve 4 but it varies with the yield as to the thickness of the waffle.


[CLICK THE RECIPE CARD FOR A PRINTABLE RECIPE CARD]
Easy-Peasy Protein Waffles
I put all of the following ingredients into my Nutri-Bullet. (Get yours right here where I got mine-I LOVE IT! I use it more than once daily!)
INGREDIENTS:
1 cup quick oats
1/4 tsp. sea salt
1/2 tsp. aluminum-free baking powder
1 cup cottage cheese
5 farm fresh eggs or 1 cup egg whites
1 Tbsp. Just-Like-Sugar Natural Sweetener (or any sweetener of your choice)
Blend until smooth. That's how easy it is! 
Place 2/3 cup on greased hot waffle iron. Bake on a waffle iron just until deep golden.
Top them hot off the griddle with your favorite thing!
We love almond butter and honey or butter and pure maple syrup or if you need keto friendly or safe for diabetic lifestyle or follow Trim Healthy Mama, try this! We love Joseph's sugar-free maple syrup! It has zero net carbs. Psst! If you are a true southerner you know we gotta have our crispy-fried bacon on the side!
ENJOY!
Gives a full satisfied feeling for a long time as they are full of protein--like 17g per serving (2 waffles)! The nutrition facts are listed below. 
MarmeeDear & Company, LLC is a participant in the Amazon Services LLC Associates Program, an affiliate advertising program designed to provide a means for sites to earn advertising fees by advertising and linking to Amazon.com.