It's Fall at Greene Acres!
It's Fall at Greene Acres!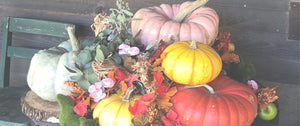 HAPPY OCTOBER!
It was a gorgeous Fall day yesterday and I was able to do what I love best--
play house
. I decorated our front porch for the season. I'm in love with my pink punkin! My first little secret is using real & faux. (Shh! My pumpkins are real and my
leaf garlands
intertwined as filler are faux.) If you would like Marmee's Quick Decor Tips on Tablescapes - it's free! I'll give you my own tips & ideas I use when decorating my own home or for a special occasion. 
Get it here
.
:::::::::::::::::::::::
          ::::::::::::::::::::::
I'm back from a long pause of blogging and posting online. Having a business from home has been part of our lives since I first started out as Mrs. Greene over 42 years ago, way before I knew anything about the internet.  Currently I am in a new season of life from when I first met many of you in 2004 when I started Marmee's Kitchen. Then it became MarmeeDear & Company in 2005, as I expanded offering products I loved from my home to yours. We had just moved to these wild new acres in 2003 to completely start over and build our dream home. 8 of our 11 children were still at home and we were bursting at the seams "camping" in a single-wide mobile home while we tamed these new acres and began the very long process to build our house from  scraps, salvaged lumber from old buildings and fresh new lumber made on our sawmill. I wasn't expecting that it would take 8 long years!


Then came the joy of a new community of kindred spirits when I began The HomeMaker's Mentor & Homemaker's Society, where I was able to inspire and teach other homemakers from around the world. The HMM has had new owners since 2014 and you can still find bundles of homemaker's lessons
there
today.
The house was finally built and we moved in. All about that long process of building is in my upcoming  (insert link) in the section
STARTING OVER
. Then my husband started felling trees and the sawmill was buzzing --AGAIN!  In my new lifebook,
Built from Scratch: A Love Stor
y I have another section titled 
LOVE ON THE ACRES
that tells all about our ventures building the wedding barn, the deck on the water. In April 2015 we had our very first wedding here on Greene Acres. We now have had over 100 love stories start at
The Barn at Greene Acres
.
                                    :::::::::::::::::::::::::::::                                 
::::::::::::::::
THE BARN AT GREENE ACRES built from scratch!
:::::::::::::::
Most recently after 2 years of hard work and 1000's of hours, Roger has completely restored (with a little help from me and our boys) our new 88 acre farm and our 2nd event venue is now open. 
:::::::::::::::::::::
photo credit to C. Lyn Creations
::::::::::::::
Our daily lives are filled with things we love to do like baking, stitching, gardening, hunting and building - all from scratch.   If you drop me an email at marmeedearmail@gmail.com I'd love to hear about what subject you'd like to read about most--would it be baking? gardening? stitching? What could I share with you that would inspire and encourage you to bloom where you are planted? 


I love hearing from you!
MarmeeDear & Company, LLC is a participant in the Amazon Services LLC Associates Program, an affiliate advertising program designed to provide a means for sites to earn advertising fees by advertising and linking to Amazon.com.